2 handball players die in a car accident: The Tribune India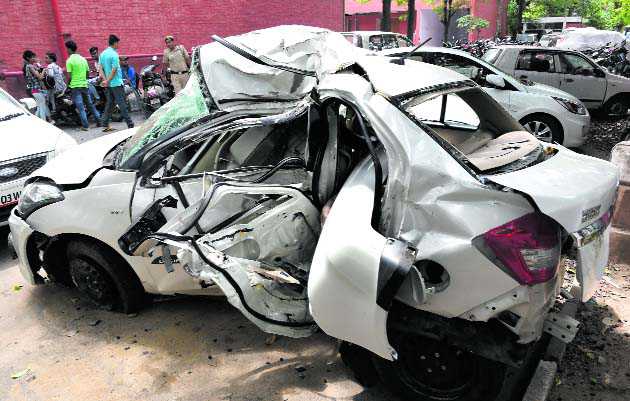 Tribune press service
Chandigarh, July 19
Four people have been killed and four seriously injured in two road accidents in the city in the past 24 hours.
Two handball players have been killed and four others injured after their Swift Dzire car slammed into a roadside tree near the 7/26/19/27 sector light spot after being hit by a car last night.
The victims, classmates, had gone to celebrate the birthday of one of them. They are national handball players and played at DAV Upper Secondary School, Sector 8.
The deceased were identified as Surinder (22), a resident of Nayagaon, and Rajan (22), a resident of Sector 7. Sahil Sharma from Sector 19, Brijesh from Kishangarh and Major Singh from Choti Karorn village in Mohali were admitted. at the PGI Trauma Center in a critical phase.
Aman, a resident of Sector 7, Chandigarh, who was admitted to Government Multi-Specialty Hospital (GMSH), Sector 16, was driving the vehicle. Sahil (24) is the son of UT Police Chief Satish.
According to the police, they had left around 8:30 p.m. from their respective places to celebrate Major's birthday at Baba Dairy in Sector 21. At around 12:15 a.m., the young people were heading to Sector 7 by car to collect their vehicles from Aman. . The driver lost control after the car was hit by another car, as a result of which it hit a tree. The impact was such that the tree was uprooted and the car was badly damaged.
Firefighters had to be called to get the youngsters trapped inside the car out. Cutters were used for this purpose. The victims were rushed to GMSH, from where five of them were transferred to PGI where two were pronounced dead. Aman is undergoing treatment with GMSH.
Were hit by a carelessly driven car: injured
The injured, including driver Aman, told police in their complaint that as they approached the bright spot in sector 7/26/19/27, an unidentified car driving carelessly came from behind and accelerated after hitting the right side of their car. Following this, Aman lost control of the vehicle and it hit a tree.
A case under Sections 279, 337 and 304-A of the CPI was registered at the Sector 19 police station.
He couldn't keep his promise of 30 minutes
Family members had spoken to Rajan on the phone when he told them he would be home in 30 minutes.
Chand, Rajan's aunt, said he told her at 10:30 p.m. that he would arrive in 30 minutes. Rajan was sitting in the front passenger seat of the car. He was doing MCom from Khalsa College in Sector 26 after completing his BCom in April. He had lived in Sector 7 with his grandparents since his father died about 14 years ago. Her mother lives in Faizabad in UP and was informed about the incident. The late Surender's family thought he would be back soon after dinner, but he didn't. His father, Bhagat Singh, a government employee, said Surender's coach called him around 1 a.m. to inform him of the incident. Surender was originally from Almora in Uttarakhand and settled in Nayagaon with his family. He had taken the licensing exams at Khalsa College. Surender sat in the back seat.